Where to begin?
We know you want to generate more leads for your business. After all, where would you be without them? Admittedly, we are also aware of how intimidating digital marketing can be to the non-initiated. What should be a useful and powerful lead generation tool can wind up being a barrier if you don't know what you're doing. It'd be great if there were a "one size fits all" approach that is easy to apply and works every time, but that's just not the case. That being said, we will show you several ways digital marketing can create quality leads for your business.
Start With Buyer Personas
If you're sitting there saying "what the heck is a buyer persona?!" you are not alone. Buyer personas are fictional representations of who your ideal customers are. All of your marketing efforts should extend from your buyer personas. Marketing, without having a clear idea of who you're trying to reach, is about as effective as throwing flyers off the roof of your building and hoping somebody grabs one.
To begin the buyer persona process, start by conducting market research. Distribute surveys across your social media accounts to collect customer data (age, occupation, education level, location, etc.). In addition, survey your staff to find out who they think your ideal customer is. Once you've collected the data and you start to form a persona around it, give it a name. This will make the customer more "real" to your team.
Creating detailed personas requires a little bit of work, but don't stress, put the effort in now and thank us later when your marketing is highly targeted and highly effective.
1. Rank Higher in Search Engines
Ask yourself this: when was the last time you Googled something and looked at the results on page 2? Or even at the bottom of page 1 for that matter? It might be hard to remember because it certainly doesn't happen often. The results that are closest to the top of the page are there because Google sees them as being most relevant to the user. If you want to increase your organic traffic and bring your website to the top of the page, it's time to do some SEO.
Do Your Research
Keyword research is invaluable when it comes to lead generation. This will help you determine the demand for certain keywords. In some cases, it may be very difficult to rank higher than someone else in particular keyword searches, but it gives you insight into the wording people will use to arrive at a specific result. There are also varying levels of keyword searches.
A broad search term would be something like "running sneakers." This search would yield about 7.75 million results (yes, I Googled it). A person doing this type of search is closer to the top of the funnel and not ready to buy yet.
On the other hand there are "long tail" keywords that are typically much more specific and the user is closer to the bottom of the funnel. Think "best running sneakers of 2018." This will yield fewer search results, but the user is closer to buying.
To determine which keywords to go after it is important to factor in the search volume, cost per click, and competition of each one. Now knowing that, if you sell running sneakers and want to rank highly for that keyword, it's going to be hard to beat out the Dick's Sporting Goods' of the world. BUT, you might be able to increase your ranking for "best running sneakers of 2018" as long as your site's content is relevant to that search. It's important to remember that just because a keyword might be less competitive and have a lower cost per click, it doesn't do you any good to rank higher in a search that's not relevant to your business.

Keep User Experience In Mind
What might sound like a simple and obvious principle is so often overlooked: operate through the eyes of the user. What do we mean by this? Look at your site from the perspective of someone searching for the product or service your business provides.
It may seem like a no-brainer, but making sure you have quality and accurate content goes a long way in improving your search ranking. The key is to match your site's content as best you can with what the searcher is looking for. The main concern for a search engine is whether or not the results satisfy the users' needs. If your site content doesn't match what people are searching for, you won't have a very high ranking.
Another thing to consider is your site usability. A well-designed website is more likely to provide users with a positive experience and they, in turn, are more likely to share it with others. Remember we're talking about generating leads here, and it takes just one bad experience to lose a potential customer for good. In this case, when someone leaves your site quickly in frustration it's going to send you further down the rankings.
If you want to a more in-depth understanding of SEO, Moz has a very detailed beginner's guide that is definitely worth a read: Beginner's Guide to SEO
2. Google AdWords
Using Google AdWords is a great way to generate leads for your business, but you have to know what campaign type will work best for you so your ads are seen by the right people. Let's look at a couple different campaign types:
Search Network Campaigns
Search Network campaigns are exactly what they sound like – ad campaigns that appear on search networks. Simply put, these ads will appear on Google searches and other Google sites when people search for keywords that are relevant to your ad. Typically search network ads are targeting users that are closer to the bottom of the funnel. They are already looking for a product or service and thus, are more likely to click on a relevant ad.
A major benefit of a Search Network campaign is that the ads take up most of the screen on mobile devices. Why is that important? If your ad has higher visibility it increases the odds of a user clicking on it. If you're doing SEO along with your PPC, you will get more clicks than you would if they were done independently. You cannot forget how interconnected all of this is if you want to achieve the most success in your digital marketing endeavors.
Display Network Campaign
The Google Display Network consists of over 1,000,000 websites and apps. Creating a campaign over the display network will capture the attention of users closer to the top of the funnel. A major benefit of using the Display Network is you can target your ads to appear on web pages that are related to your product or service. For instance, if you're selling running sneakers, your ad could appear on a blog about running. The Display Network is where you'll want to advertise if you have a product that is visually appealing. You can also create responsive ads that appear as "native" ads and match the look and feel of the site it appears on.
The Display Network is a great way to engage people and remind them of your business after they have left your site. Remarketing this way can be a very useful tool in lead generation.
Video Campaigns
In some ways a division of Display Network Campaigns, Video Campaigns bring their own unique advantages. With the video ad content hosted on YouTube, ads are primarily displayed there, or they can appear on video partner sites or apps on the Display Network.
While there are different types of video ads you can run, what's important to know as a business owner is this: you can be highly targeted in selecting an audience and the cost per view is very low. With a video ad you can target people based on demographics, interests, search history, browser history, or even major life events like upcoming birthdays.
Are you interested in running video ads but not sure where to start? Getting a high-quality video is often a challenge for small businesses, but we can help. Site-Seeker is a top 4% AdWords agency and a certified Google Partner. If you run a trial advertising program with us, we can facilitate the filming of a 30-second video for your business provided for FREE via YouTube. This is a great program so it's running on a limited basis. Contact us with the form at the bottom of this post for more details on this great offer.
Tell Me More About The Video Offer
Shopping Campaigns
By linking your AdWords account with Merchant Center, you can set up a Shopping Campaign. If you are selling products online this is a great way to generate quality leads because it allows you to display your products with a description and pricing info. This means that when a user sees a shopping ad for one of your products, they can already determine by the picture and price if it's right for them. If they click through they are now already a higher quality lead because they are closer to purchasing. Shopping Campaigns are a no-brainer for e-commerce, businesses and almost always generate a positive ROI.
Local Campaigns
Local ad campaigns can make your ad appear with a map or on Google Maps when users search for a local business. There are a number of reasons why you might want to use this type of ad. For starters, it can increase foot traffic to your store because users are looking for a specific type of business within a certain area. Also, customers can learn more about your business this way because it will show your store hours, location, customer reviews, etc. I know when I search for restaurants when I'm in an unfamiliar city my main concerns are customer reviews, location, and how late they're open.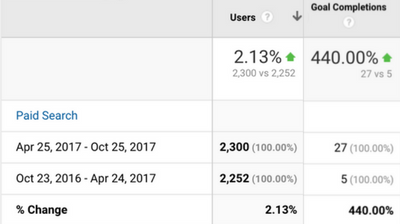 3. Get Social
Social media has become an important tool for businesses to reach potential customers and engage with current ones. Utilizing social media to your advantage can be a cost-effective way to generate leads. The important thing to keep in mind is which social network or networks will produce the best results for you. We'll take a look at some of the most popular social networks and where they excel.
Facebook
No other platform gives you the ability to target your advertisements as intricately as Facebook does. A highly targeted ad means you won't be advertising to just the general public in hopes something sticks. Defining your audience by location, demographics, interests, etc. gives you a lot more control over who sees your ad. Not sure who you should be targeting? Think back to your buyer personas and start there.
Using the running sneakers example, say you're trying to reach men between the ages of 21-40, that are interested in running or fitness, and live within a certain radius of your sneaker store – Facebook's ad targeting allows you to narrow your audience by these parameters. The level of audience specificity in Facebook advertising is immense and having a clearly defined campaign goal with intelligent execution is key to advertising successfully.
Instagram
Instagram is a very specific platform that has added a variety of features over time, but at its core it's all about high-quality visuals. So how do you know if Instagram is the right place for you to attract more leads? Ask yourself these questions:
Am I promoting a product that's visually appealing?
Can I incorporate photo and video content into my marketing strategy?
Who am I trying to reach?
Let's address that last question. Instagram is a great platform if you're looking to connect with non-white young adults, especially women. The 18-29 age group is the biggest Instagram user, so if that falls in line with your personas you need to be taking advantage of this social network.
There are a lot of tricks that can bring more attention to your posts on Instagram. Using relevant, heavily trafficked hashtags are a good place to start, but don't overdo it or you'll look spammy. Asking users to tag their friends in a post is also a good way to expand your audience by using people who are already interested in your brand. Also, directing users to the "link in bio" can be a great way to drive traffic to a page where you can then collect information from them.
LinkedIn
When it comes to B2B lead generation on social media, there is no better option than LinkedIn. According to the social network, "80% of B2B marketing leads sourced through social media come from LinkedIn." Undeniably the best place to reach business professionals and decision makers, LinkedIn is a great platform to post blogs and industry knowledge that can drive professionals in need of the services you provide. Take advantage of the traffic and include a form fill or additional gated content that requires the user to enter their contact information. By doing so you will be obtaining a high quality lead.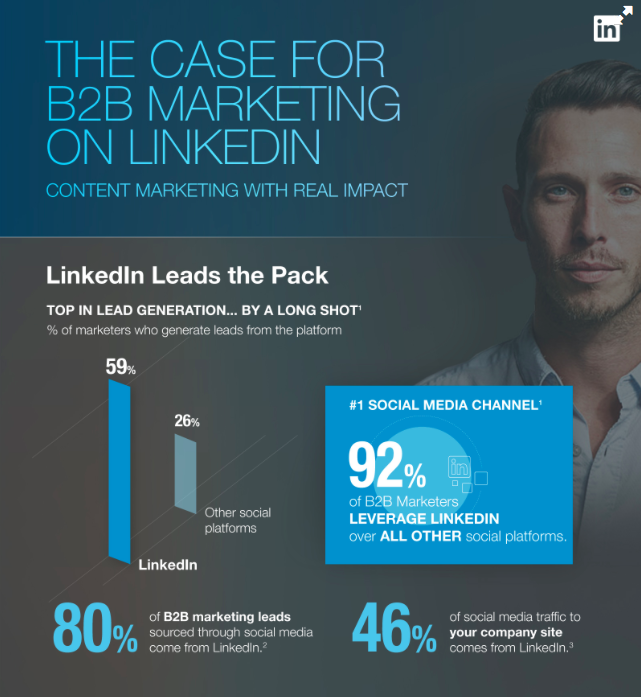 Put It All Together
Phew! We made it. That is a lot to digest! Digital marketing can seem overwhelming, but its benefits (especially when it comes to lead generation) are undeniable.
Don't worry about mastering all of this on your own, we're here to help. If you want to learn more about any of these strategies (or your free 30-second video offer) fill out the form below.